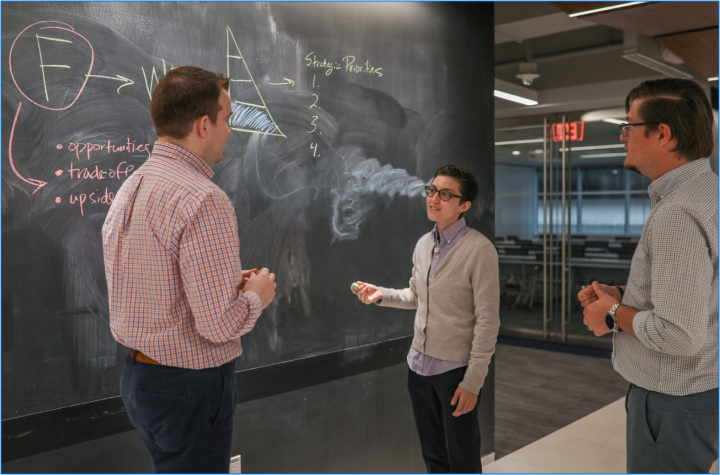 What is Market-Based Management?
Market-Based Management (MBM®) is a management philosophy that empowers individuals and organizations to succeed long-term by applying the principles of mutual benefit.
History demonstrates that peaceful and prosperous societies tend to practice certain common principles, such as guaranteeing free speech, protecting private property rights, and ensuring that the inherent dignity and rights of all are equally protected. We've found that these principles can be analogously applied within organizations to help employees fulfill their potential, and in doing so help the organization grow and succeed as it creates value for others. 
By applying these principles of human progress to Koch Industries through this management philosophy, Charles G. Koch was able to transform what was a small engineering firm into the country's second-largest private company. Since the 1960s, Koch Industries has grown to have a presence in over 70 countries and currently employs about 130,000 people worldwide (about 65,000 in the U.S.). But MBM isn't a business philosophy. It's a management philosophy. Because it's based in principles, its proven success is seen not only across industries and countries at Koch Industries, but also among many of the organizations within the Stand Together philanthropic community, including think tanks, grassroots organizations, impact funds, and community-based nonprofits. 
There are two main components to MBM: the five dimensions and the eight MBM Guiding Principles.
What are the Five Dimensions of MBM?
Market-Based Management is comprised of dozens of principles and concepts. Individually, each are helpful, but when applied holistically the sum is greater than their parts.
To help more easily consider and apply these concepts, Charles developed a framework based on five dimensions: Vision, Virtue and Talents, Knowledge Processes, Decision Rights, and Incentives. Each of these dimensions provides a lens through which to understand and overcome complex obstacles that organizations face.
What are the MBM Guiding Principles?
The eight Guiding Principles define who we are as an organization, and how we treat one another and our partners.
When put into action, these principles combine to create a dynamic and positive culture, one in which each employee can progress along their unique self-actualization journey while contributing to others.
List of MBM Guiding Principles
Integrity
Have the courage to always act with integrity and in harmony with our vision.
Stewardship and Compliance
Act with proper regard for the rights of others. Honor donor intent in a manner that advances our vision. Comply with all laws and regulations. Stop, think, and ask.
Principled Entrepreneurship™
Practice a philosophy of mutual benefit. Demonstrate to people of all backgrounds and perspectives that this philosophy will improve people's lives. Attract, motivate, and empower as many people as possible to become social-change entrepreneurs dedicated to advancing a society of mutual benefit.
Transformation
Transform yourself, your organization, and our efforts. Seek, develop, and utilize the visions, strategies, and methods that will enable us to demonstrate a better way to help people improve their lives and encourage rapid adoption across society.
Knowledge
Acquire the best knowledge from any and all sources that will enable you to improve your performance. Share your knowledge proactively. Provide and solicit challenge consistently and respectfully.
Humility
Be humble, intellectually honest, and deal with reality constructively. Develop an accurate sense of self-worth based on your strengths, limitations, and contributions. Hold yourself and others accountable to these standards.
Respect
Treat everyone with honesty, dignity, respect, and sensitivity. Embrace different perspectives, experiences, aptitudes, knowledge, and skills in order to leverage the power of diversity.
Self-Actualization
Be a lifelong learner, develop your aptitudes into skills that create value and help you realize your potential which is essential for fulfillment. As you become increasingly self-actualized, you will better deal with reality, face the unknown, creatively solve problems, and help others succeed.