Polyplexus partnership generates innovative ideas on poverty alleviation
Stand Together Trust (STT) is proud to announce the recipients of a total of $5,000 in micro-awards for the "Re-imagining the Social Safety Net as an Innovation Commons" incubator, funded by STT. The incubators were hosted in June 2020 by the innovation accelerator Polyplexus – a global, online platform that spurs cross-disciplinary ideas, new fields of study, and concept development. Managed by Dr. Lenore Ealy, Sr. Fellow for communities at STT, the incubator generated research and new recommendations that will expand the field of social innovation and entrepreneurship.
As the incubator ended this summer, Dr. Ealy announced that STT was offering micro-awards to help generate further knowledge creation and innovation around improving outcomes for those struggling with poverty. Those challenges included awards for the best two conjecture contributions made during the incubator and for the two best concept papers outlining a new research project, a public policy application, or an experimental social innovation proposal.
While all the concept paper and conjecture submissions were of notable quality, the following contributors stood out as a result of their well-reasoned and researched concepts. "Our incubator sought to explore our emerging point of view that while poverty is typically addressed as an income problem," said Ealy, "it is actually a social condition with multiple, complex dimensions that require innovation and entrepreneurship. These concept papers helped us validate these insights and imagine new ways to approach helping people out of poverty."
The winning contributions are: 
Concept Papers 
Wayne Phoel, Ph.D. ($2,500 award)
Visiting Research Engineer, The Institute for Systems Research, University of Maryland 
Phoel's paper, "Prototyping a Poverty-Focused Digital Innovation Commons," proposes the creation of an online community designed to foster coordination and cooperation to explore impactful solutions across all facets of poverty. Drawing upon insights of Adam Martin and Matias Petersen's seminal paper,"Poverty Alleviation as an Economic Problem," Phoel's proposal "considers poverty as a multidimensional economic problem of exchange, coordination, and governance rather than as a technical problem of redistribution," and proposes building an innovation commons on social network technology where different stakeholders can contribute and interact to address each of these subproblems. Phoel writes that "in today's world, social networking technologies enable unprecedented ability to share information and insights, and to move people to act." His plan proposes a platform to motivate a diverse set of people to engage in a digital innovation commons designed to create novel solutions to poverty.
Arthur 'Art' M. Diamond, Jr. ($2,000 award)
Professor of Economics at the University of Nebraska Omaha  
Diamond's paper, "Ending Persistent Poverty by Enabling Robustly Redundant Labor Markets," challenges the growing belief that automation and technological advancements are leading to an era of intractable underemployment, and persistent poverty. Diamond argues for unleashing "gazelles," the young, fast-growing, entrepreneurial firms that are the primary creators of net new jobs in modern economies. When these businesses flourish, the job market flourishes because these innovative companies "create new uses for currently unused or underused inputs." Achieving a robustly redundant labor market that will end persistent poverty and mitigate against long-term joblessness can be as straightforward as eliminating costly over-regulations (especially labor and environmental regulations) that inhibit the entry of these innovative young companies into the marketplace.
Conjectures 
Wayne Phoel, Ph.D. ($250 award)
Visiting Research Engineer, The Institute for Systems Research, University of Maryland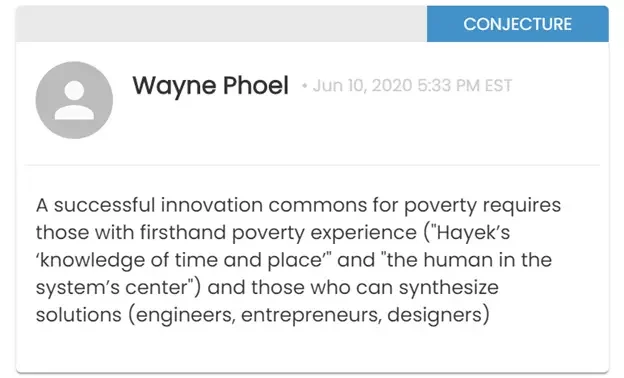 Matt Mihelic, M.D. ($250 award)
Assoc. Professor, University of Tennessee Graduate School of Medicine
Chief Technology Officer, Averoses Incorporated