April 2019 marks the 70th anniversary of the North Atlantic Treaty Organization (NATO). In advance of this historical commemoration, YouGov conducted a survey on behalf of Stand Together Trust and RealClearPolitics that asked respondents in key NATO member states—United States, Turkey, France, the United Kingdom, and Germany—a series of questions about NATO's effectiveness and relevance in today's world.
When asked about NATO's relevance today, Americans were almost evenly split on the issue with 39 percent of Americans thinking NATO was more relevant today and 36 percent viewing it as less relevant than it was 70 years ago. Respondents from Germany and the United Kingdom responded similarly. Fifty-three percent of Turkish respondents and 51 percent of French respondents expressed that they thought NATO was less relevant today than it was when it was founded.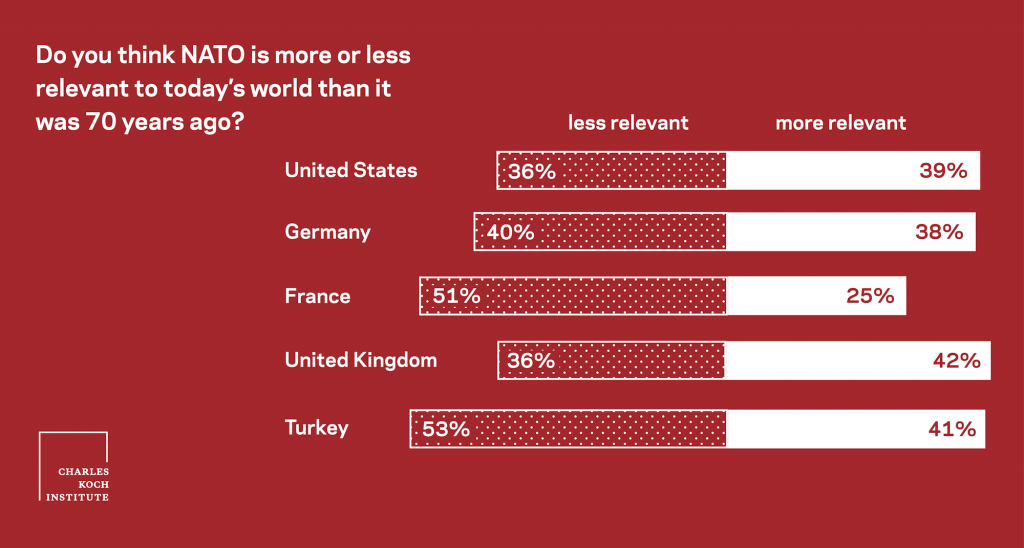 When respondents were asked if it was a good thing for their country to be in a military alliance with the United States, 51 percent of German respondents, 59 percent of French respondents, 66 percent of respondents in the United Kingdom, and nearly half of those in Turkey agreed that it was.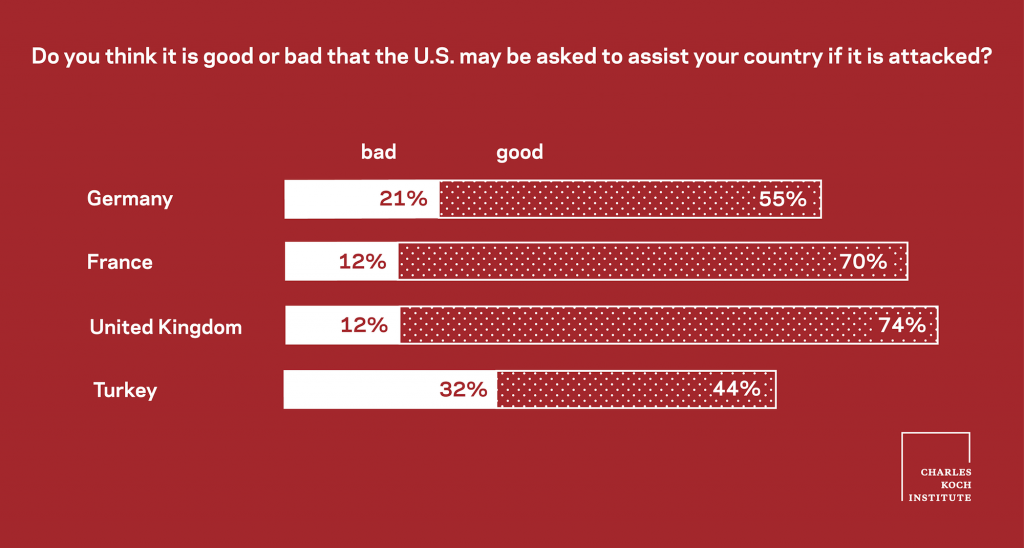 However, when asked if it was a good or bad thing that their country may be asked to assist the United States if attacked, the numbers were not quite as high. Only 27 percent of German respondents, 42 percent of French respondents, and 45 percent of those polled in the United Kingdom said this was a good thing. Additionally, 51 percent of Germans and 57 percent of Turks thing it is bad for their countries to assist the U.S.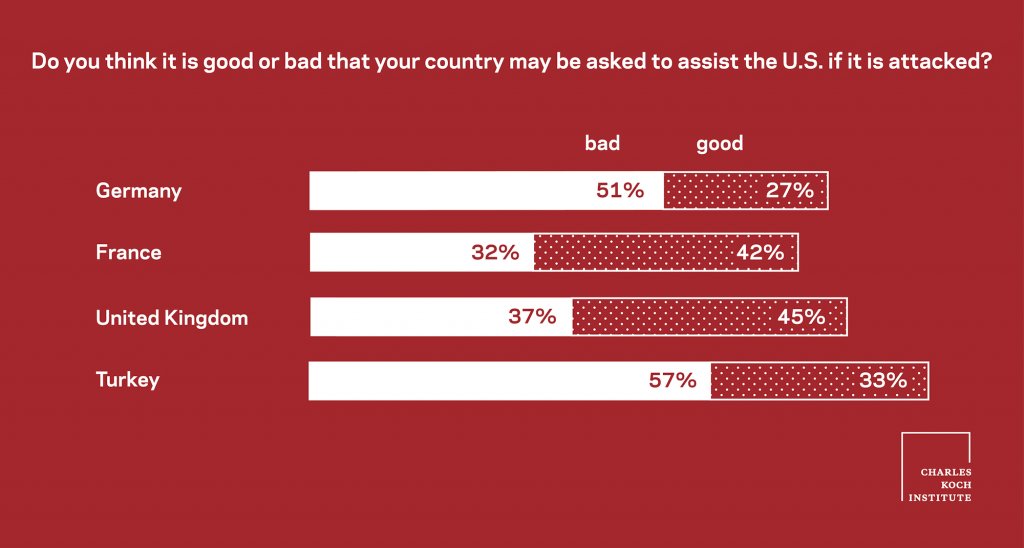 William Ruger, Vice President of Research and Policy at Stand Together Trust, said, "While they are happy to have the U.S. come to their defense, a striking number of respondents thought it would be bad to be asked to assist the U.S. if it were attacked."
According to the polling, 46 percent of German respondents and 47 percent of Turkish respondents expressed that they thought the NATO mission in Afghanistan had largely failed. In the United Kingdom, 41 percent agreed with this sentiment. When Americans and French respondents were asked this question, 41 percent and 44 percent respectively said they did not know the answer to this question. Thirty-five percent and 37 percent respectively answered that they believe the mission had failed. Nearly half of the respondents in Germany and more than half in the United Kingdom went as far as to express their belief that their country should have never sent troops to Afghanistan in the first place.
An overwhelming majority of Turkish respondents, 61 percent, said that the United States' intervention in the Middle East has made the region less stable. Similarly, 62 percent of respondents from Turkey said they were opposed to long-term U.S. involvement in Syria.
Only 36 percent of respondents in the United States and France said that the NATO alliance makes their country safer. In Germany and Turkey, on the other hand, 40 percent of respondents felt that their countries were safer. Respondents from the United Kingdom are more likely to have a positive assessment of NATO membership with 52 percent believing it has made their country safer.
It should be noted, however, that when asked to accurately define NATO's mission, only 46 percent of the Americans polled were able to do so when given a list of options, while 69 percent of Turkish respondents were able to do so.